Contact us for any further questions.
If you can't see what you want or need more advice on choosing wheels e-mail us with queries.
We always reply, normally within 24 hours so if you don't recieve a response please check your spam folder or email us again with your phone number if you are not recieving our e-mails.
Phone backs to discuss wheels – we can arrange to phone call to discuss wheel builds. If you email us with your phone number we can agree a convenient time.
Appointments & collections
If you would like to see our wheels in person or talk through the options please contact us to make an appointment. We can usually arrange appointments between 9:30 and 5:30pm Monday to Friday.
This is also the postal address for all returns and repairs. We moved to this address at the end of February 2023:
Just Riding Along
Unit 26d
The Bull Centre
Stockton Lane
YO32 9LE
UK
We are at the back left corner of a small industrial estate called The Bull Centre, please drive or cycle between the Focus Fire Place showrooms and turn left to find us.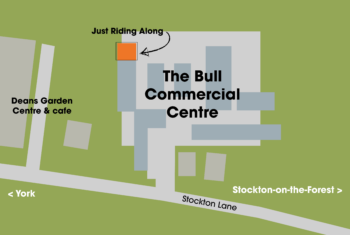 Send us a message using the form below.
You can also use the chat box to send a message if we are online or even offline.