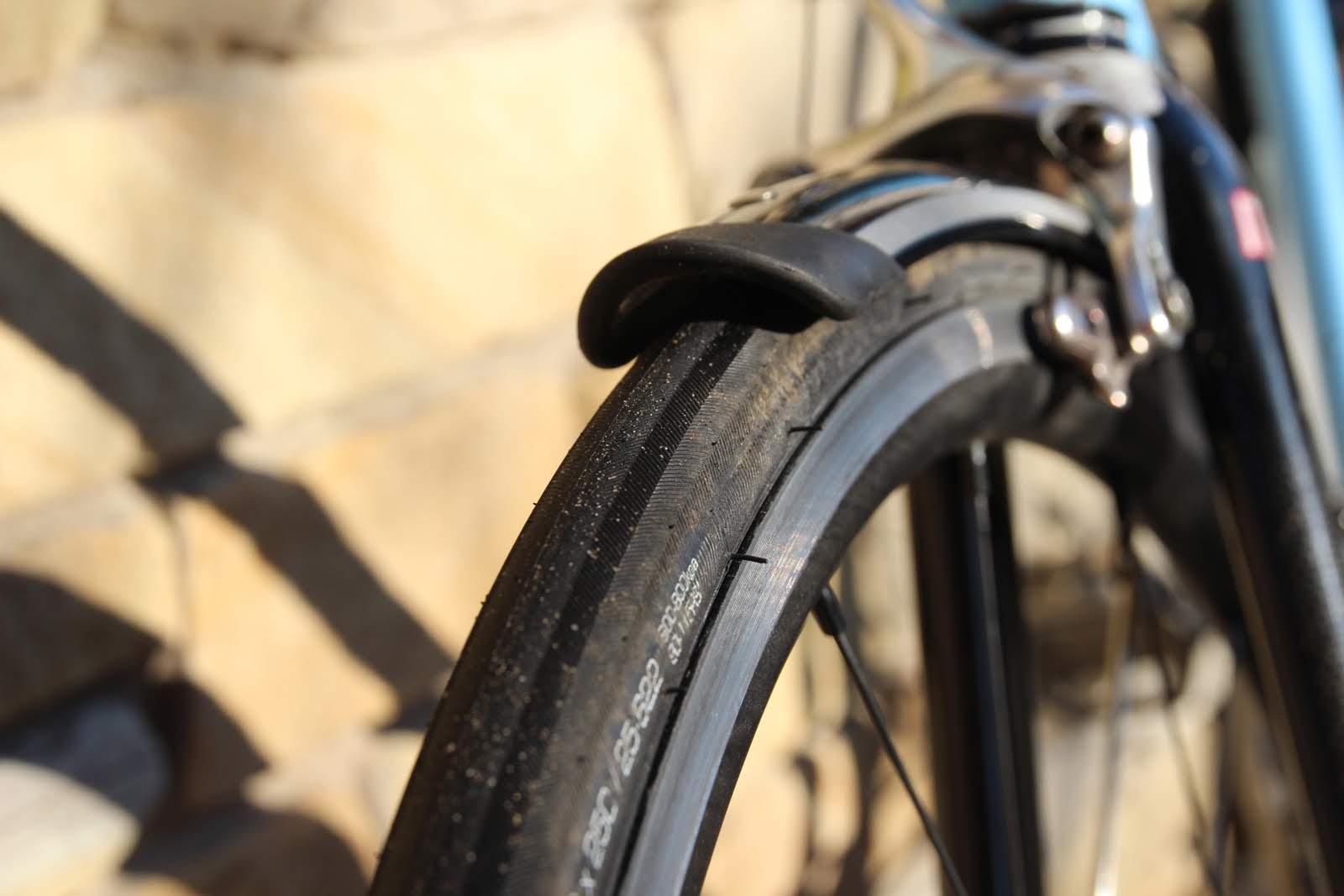 Even though we've been dedicated to tubeless tyres since the beginning, we've always struggled to offer much in the way of choice when it comes to tubeless compatible road tyres. 10 years ago the Hutchinson Fusion was the only option, and it was a pretty good tyre for the time, maybe a bit narrow and slipped easily on steep climbs but it rolled nicely and was very puncture resistant compared to an inner tube. Then the Schwalbe Pro came along; wider, faster rolling than the Fusion, and lighter too. The "Pro" was followed a couple of years later by the "Pro One" which was more of the same, only better (lighter, wider, faster), so it's what we've been recommending with our wheels ever since.
It's not for a lack of trying that we haven't been able to offer any other options, we have looked around but there just aren't many excellent road tubeless tyres available from the usual brands. Continental have only just brought out their first, the GP5000-TL, but we haven't had a chance to try it yet.  We tried the Maxxis Padrone TR once the price was reduced from the original comical £200 each, but apart from being impossibly hard to inflate they were energy-sapping, narrow, and turned me into a nervous wreck going around corners.
So until now it's been the Pro One we offered with our wheels, but they are not perfect. Grip in the dry is excellent, but grip in the wet is merely reasonable as I have found out to my cost a couple of times and picked up the scars to prove it. They come up large which is good for cushioning and resistance against impact punctures, but they do balloon out a little bit even on wide road rims giving uncertain handling under hard cornering and a less than ideal shape for aerodynamics and stability in side winds. They also have a tendency to wear to a squared-off profile after a couple of thousand miles (or less if you skid a lot).
Recently though we have been introduced to the IRC Formula range of tyres, and more specifically the RBCC model. This is the high performance model (although there is a "light" version too which saves a few grams) optimised for low rolling resistance and high grip in the wet through the power of…. Rice Bran. RBCC stands for Rice Bran Ceramic Compound, and of course they have a lot of rice in Japan where these tyres are made, but even so it must still have taken a leap of imagination to think about mixing it into tyres. The rice husks are all turned into (apparently) a ceramic material and blended in with the rubber to create a compound which, IRC claim, gets grippier in the wet but rolls well in the dry. In fact, the way they write about it makes the RBCC sound like a miracle material:
"Rice bran (or the outer husk of an individual rice grain) is ground to a fine powder, mixed with a thermosetting resin, and super-heated. When cooled, the block is pulverized to create millions of porous, ball-shaped structures with semi-rigid fingers extending in all directions. These Rice Bran Ceramic 'balls' are then kneaded with the rubber and moulded into tires. The spikes which extend from the RBC reach out and grab the uneven road surface for increased traction while the pores will wick water from the road surface to create a larger tire-to-road contact patch."
Ingenious, but you can probably see why I was sceptical. Luckily, Malcolm from Velo Distribution, the UK distributor, could see I wasn't convinced and gave me a pair to try out….
First impressions
The tyres look and feel really nice even before you unwrap them. The rubber is tactile and supple, and it forms a tread across the entire surface from bead to bead unlike, for example, the Pro One which just has tread on the top of the tyre. IRC claim this is for puncture resistance and I could see it working, because I have had small slices to the sidewall threads of other tyres which don't seal easily. Tread is a light chevron file pattern in rows which alternate in direction across the rubber.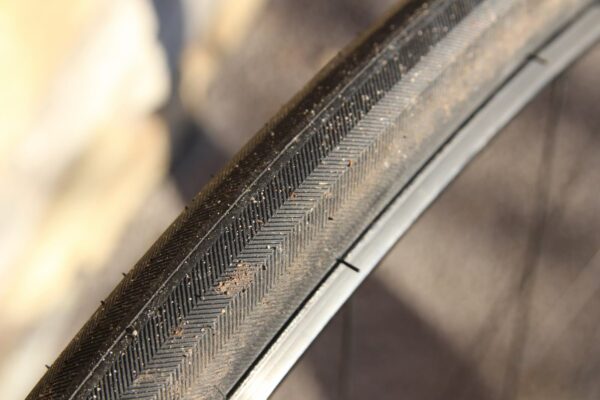 Fitting & inflating
Two conflicting requirements here, the tyre needs to be loose enough to fit on the rim, but tight enough that it inflates easily; a loose, baggy tubeless tyre is hard to get seated, and can lead to tantrums after 30 minutes of failing to inflate. I first tried fitting these to our Lark20 Light wheels which are my everyday runaround set, and the IRCs fitted easily enough with a strong thumb press to get the last bit of bead fitted, no tyre levers needed but they were slightly tighter than the Schwalbe Pro Ones. Inflating was easy and immediate, no fiddling, just pump straight up. After a few months of testing these tyres I fitted them to another wheel and the bead seemed to have stretched very slighty making it easy to fit to the rim, but harder to inflate.
The IRCs measured very close to their nominal size, 25.5mm in fact on the Lark20 wheels. This is much smaller than the Schwalbes, with the Pro Ones 25c measuring a whopping 28.6mm on the same rim. In terms of tyre height (measured from rim edge to top of tyre), the IRCs at 22.2mm were again dwarfed by the Pro Ones at 25.5mm. The IRCs measure almost exactly the same outer width as the rim on these wheels so there is a nice, very smooth transition from tyre to rim – important for aero efficiency and handling in side winds.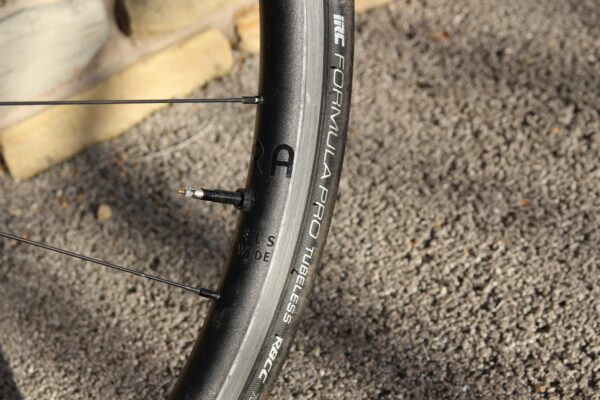 The ride
With the tyre being so much smaller than the Pro One, I pumped it up to a good 90psi (more than my usual 75-80) and prepared to get my teeth rattled. Except that didn't happen. The first and most obvious thing I noticed about these tyres was an unexpectedly smooth ride, they take the edges off any sharp bumps in the road. For such a comfortable tyre it seems very fast too – it's hard to say without a side by side comparison (something for a future blog post) but it seems to roll as fast as any tyre I've tried.
Going in a straight line is all very well but sooner or later you have to make a turn, and cornering on these tyres is a lot of fun. The smooth rounded profile means there's no sudden transition midway through a turn and maybe it's the rice bran doing the work, but I have never felt I was going to run out of grip on these tyres. Even on rough surfaces these tyres stay stuck down nicely.
In rain there is certainly more grip than with other tyres. Locking up the rear wheel doesn't lead to an uncontrollable slide – you can feel (and hear) the fine tread trying to grip and it comes back under control much faster than, say, the Pro One.
The one downside I noticed with the relatively small casing compared to the Pro One tyres is that it's much easier to bottom out the tyre and impact the rim at lower pressures. Running at 60 psi I felt occasional clangs through potholes or going up lowered curbs at speed. But there has been no damage to the tyre or rim from this. I did pick up one puncture from a piece of metal which cut into the tyre – the hole sealed once pressure dropped to 40psi or so, and I patched it from the in
In conclusion
These are great tyres and I highly recommend them. They feel fast and improved the ride of my bike both from the smooth ride and more cornering grip in the rain, and they haven't shown any signs of wear in the 3 months or so I have been using them. We will continue to offer other road tubeless tyres with our wheels, but these IRC Formula RBCC are now top of our list of recommended tyres.